Rubber tire gantry crane / Automotive marine gantries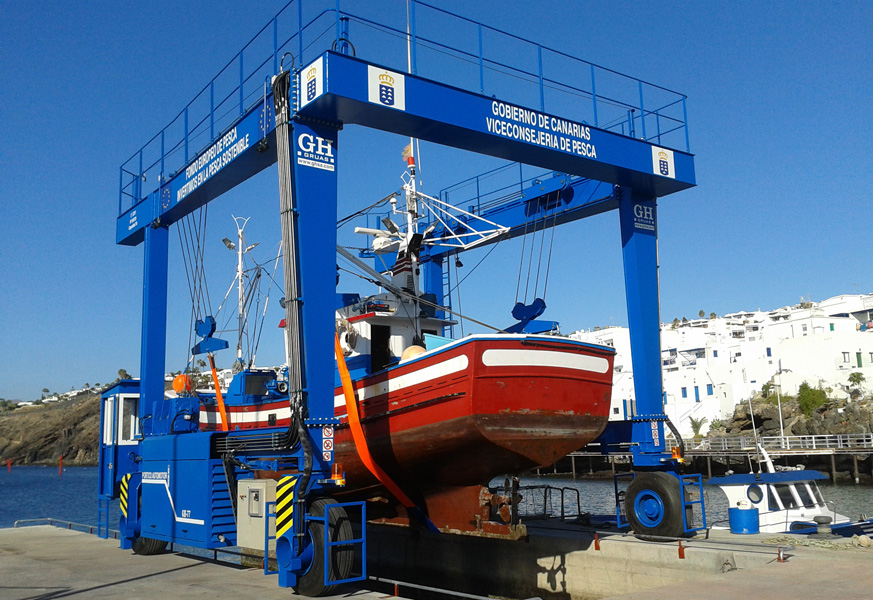 These cranes are studied, designed and built especially for marine maintenance work and resistant to corrosive environments.
GH automotive gantry cranes are available from 20ton to 600 ton as standard. With the features and benefits provided by this type of machine, it can be adapted to different industries that require lifting and moving loads in open spaces.
This innovative equipment have been developed for industrial applications, and with remarkable autonomy in the movement of heavy loads.
Automotive marine gantries from 20 ton. to 600 ton.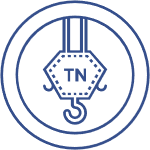 Lifting capacity
20 tn - 600 tn

Height and width
Customisable

Steering modes
4 steering modes
FLEXIBLE, FAST AND MANOEUVRABLE
GH boat hoist are designed to optimise your handling and manoeuvring to get the most out of your boatyard, no matter how complicated it is, to place boats just where you need them, just as fast as you need them.
A wide range of customisable models: Total versatility adapted to your fleet of boats.
4 types of cranes available. Adjust your turning radius as much as possible with greater precision and finesse.
Double lifting speed: Maintains effective and constant productivity.
Remote control with aft, bow and total weighing display: The user interface allows the operator to supervise the lifting and traveling operation with all the control and precision that is needed.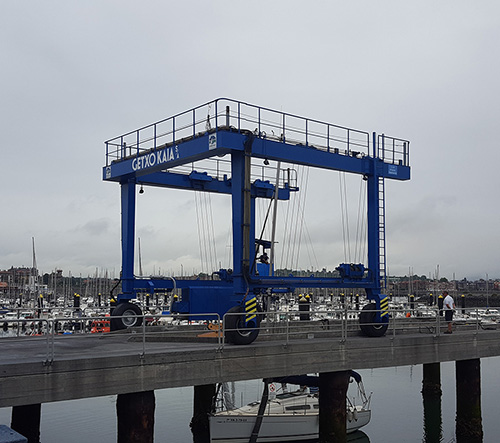 RESISTANT, ROBUST AND RELIABLE
We design and manufacture boat hoist that let you move different types of vessels under difficult marine environment conditions while maintaining the same productivity standards for years.
Robust structure. A design conceived to last under the most demanding conditions, maintaining the highest level of operability throughout its entire service life.
Components from leading brands. Our gantry cranes use the highest quality components from leading manufacturing brands.
Easy maintenance. We consider maintenance to be the key element that guarantees the service life of our gantry cranes. Thus, we ensure the easy access to the key components and we provide additional help systems such as useful nibs for boat part disassemblies.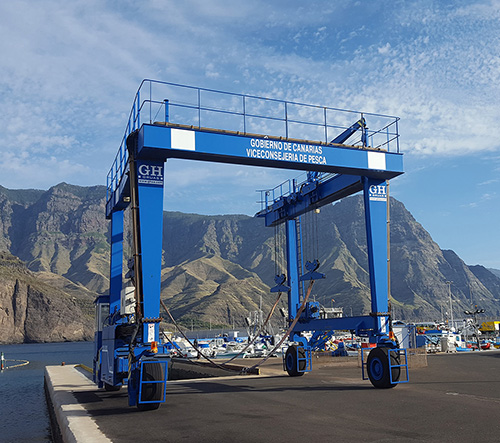 SAFE
For us, safety is not an optional extra, it is at the heart of everything we do. That is why we always go a step further when it comes to guaranteeing the safety of our clients.
Safety components. Stairs, gangways and lifelines that facilitate and provide assistance during maintenance work.
Sound insulation for our equipment. To reduce noise levels and noise nuisances.
Setas de parada en todas las patas: Ante cualquier emergencia el operario es capaz de parar la máquina desde cualquier posición.
Remote control reset push-button. The remote control does not take over until the button is pressed.
Rim supports. Avoid instability if a tyre is punctured by providing support on the ground.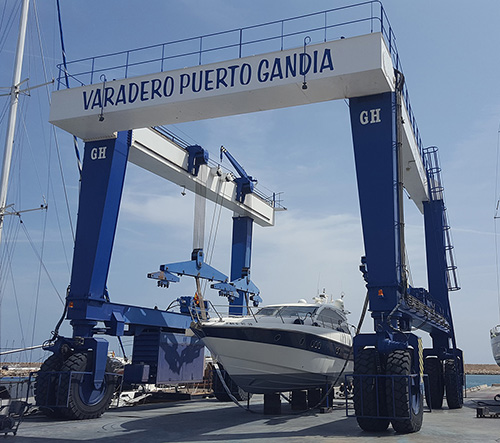 ADAPTED TO THE ENVIRONMENT
Marine environments are highly demanding. Our solutions are specifically designed to offer the best results in the most extreme conditions, whatever they may be.
Pinturas anti-corrosión: Pinturas que cumplen norma UNE-EN-ISO 12944 en sus niveles C4 (nuestro estándar) y C5 M (opcional para los ambientes más exigentes) para reducir la corrosión e incrementar la vida útil.
Climate control. Climate-controlled cabins (optional) for demanding environments.
Adaptable sling. Adjusted to different depths while maintaining balance during load lifting. Two configurations: continuous and central cut (optional).
Amphibious gantry cranes. To collect boats directly from the water by means of an access ramp. The structure in direct contact with the sea is galvanised, with engines and other parts susceptible to being affected by water that are sealed.
Low consumption, committed to the environment.
- Accelerated diesel engines: delivering the power necessary at all times.
- LED lights: 50 W power offering 4000 lm of light and ≤ 3300 ºK.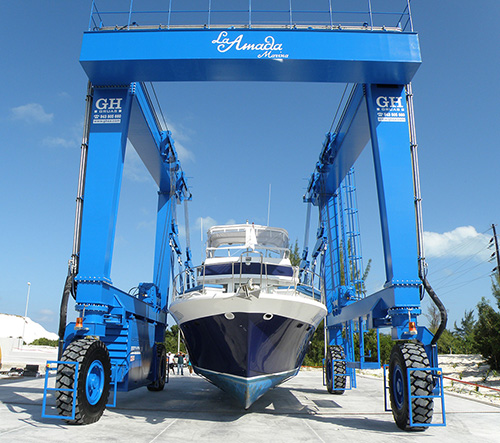 LOOKING FOR A COMPANY AND SOLUTION THAT EXCEEDS YOUR EXPECTATIONS? Request a quote