Hoist / GHE17 Hoist
The latest important addition to the NEW GENERATION line.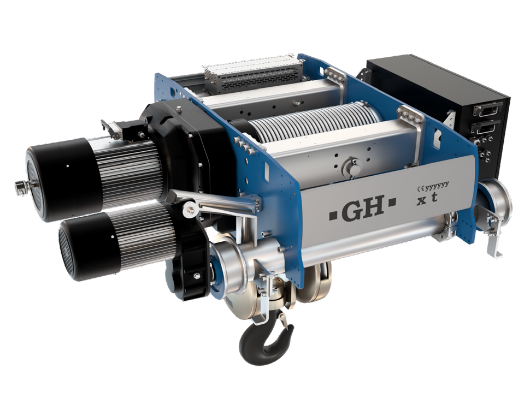 THE ENTIRE RANGE OFFERS A CENTRIFUGAL BRAKE AS OPTIONAL
WE PRESENT THE LATEST HOIST THAT WE HAVE LAUNCHED IN OCTOBER 2021: THE GHE17
Designed and manufactured based on the concept of modularity used in our new generation hoists, the GHE17 incorporates all the characteristics that have made this family of hoists synonymous with robustness, performance and reliability.

NEW DESIGN OF GEAR MOTOR
Satisfies the highest market demands. Work group M5 or higher throughout the range. Hardened and ground gears for greater durability and smooth operation.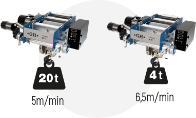 WITH VARIABLE FREQUENCY DRIVE AND OVERSPEED OF 30%
New lifting motor, which together with the variable frequency drive provides greater productivity and at the same time lengthens the life of the echanism. The lower the load, the higher the speed.

TUBULAR DOUBLE GIRDER
Greater hook travel and new 2,100 mm trolley span. We offer a competitive solution that is unique in the market.

SMART HOIST
Combination of the new GHE17 and our COREBOX: connected intelligence system to save costs and increase productivity.

AUXILIARY SAFETY BRAKE
Cost-effective solution and available in the entire range. The centrifugal brake progressively stops the load in the event of a runaway.

REDUCED HEIGHT UP TO 20 t.
Balanced and compact solutions that avoid the use of counterweights thanks to the tension roller, reducing reactions in the structure.
LOOKING FOR A COMPANY AND SOLUTION THAT EXCEEDS YOUR EXPECTATIONS?
Request a quote