Industrial automotive gantry crane
Industrial hydraulic automotive gantry crane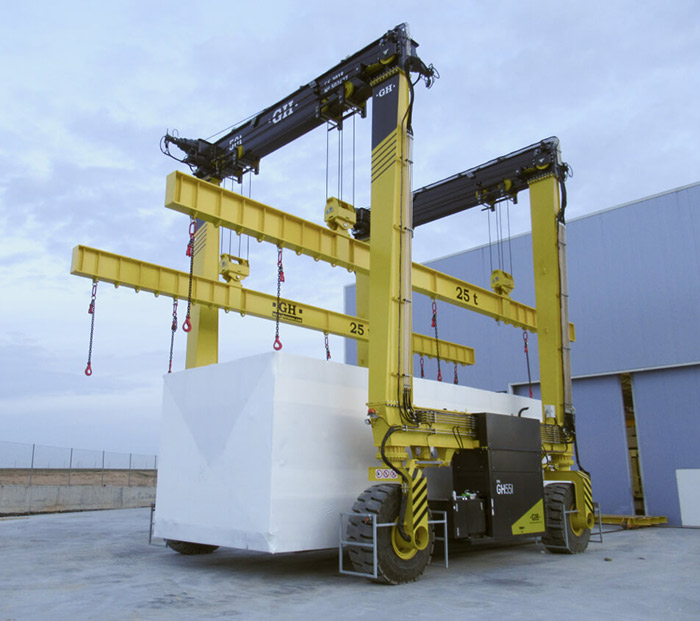 The industrial automotive gantry cranes we offer at GH are a solution for may sectors and applications such as the prefabricated concrete industry, outdoor logistics depots, the wind power sector, heavy boilerwork, cranes for handling containers, etc.
These automotive gantry cranes are robustly built, offering the maximum quality and reliability provided by the main brands of the components included.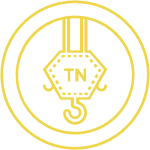 10 t - 500 t

customisable dimensions
Our wide range of automotive gantry cranes for industrial environments is designed with customisable widths and heights, to adapt to the loads they have to move. The lifting capacities range from 10 t to 235 t, and up to 500 t in the U-Shaped version.
The different types of rotation enable the gantry crane to carry out all types of manoeuvres, lateral and diagonal movements, rotations on its own axis, etc., thus managing to make the most of the available surface area.
DEPENDING ON THE REQUIREMENTS OF THE LOADS TO BE HANDLED, WE OFFER
DIFFERENT TYPES OF INDUSTRIAL AUTOMOTIVE GANTRY CRANES
We equip the automotive gantry cranes with systems to guarantee the safety of manoeuvres, facilitate their handling and increase their durability.
We have an international customer service network, offering technical support from the central office and through each one of the GH Group"s delegations.
OUR PRIORITY: to minimise unplanned production stoppages, emergencies and guarantee the safety of operators.
CONSULT OUR DIFFERENT MODELS
ACCORDING TO THEIR CAPACITY:
Industrial electric automotive gantry crane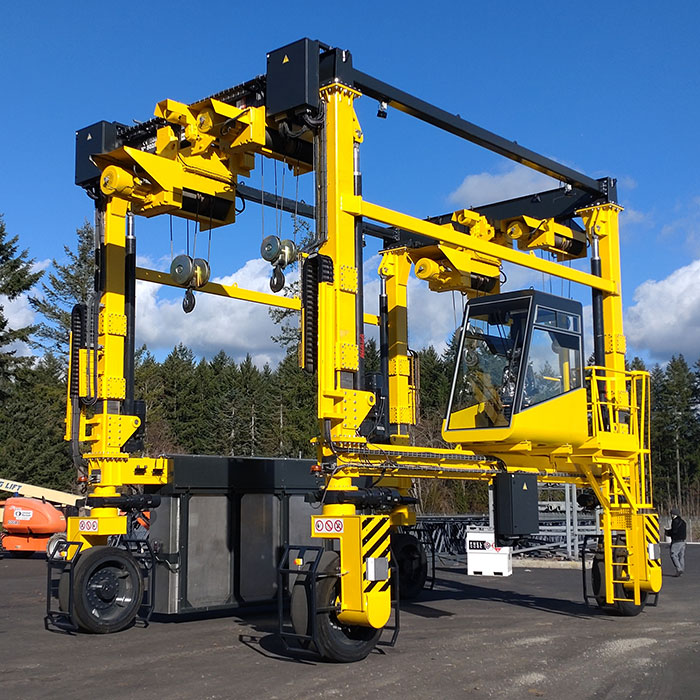 At GH we are concerned about the environment and that"s why we have launched the electric version of our industrial automotive gantry crane, offering you a machine free from emissions and oil leaks.
This version of electric gantry crane has a lithium-ion battery pack, a 10-year warranty and a whole day"s autonomy working at full performance.
It has optional span opening and closing and variable height systems, which enable optimising the gantry cranes' manoeuvres. For example: The variable height facilitates the entrance and exit of the gantry cranes in warehouses, adapting to the dimensions of the doors.
DEPENDING ON THE REQUIREMENTS OF THE LOADS TO BE HANDLED, WE OFFER
DIFFERENT TYPES OF INDUSTRIAL AUTOMOTIVE GANTRY CRANES
LOOKING FOR A COMPANY AND SOLUTION THAT EXCEEDS YOUR EXPECTATIONS?
Request a quote