Overhead crane
The Bridge cranes (also referred to as Overhead cranes) are cranes with a lifting system like hoist or open winch.
They are of very robust construction with a high level of standardization, making them very modular and adaptable to any need, high reliability components and available for a wide range of applications.
Structure of box girder or standard profile, optimized by computer calculation processes. Our designs offer the best technical option with the best mechanical value.
Overhead Cranes from 500 kg to 400 ton.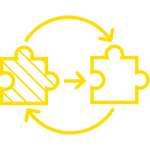 Standardized Construction
Versatile modular design
Adaptable to multiple applications
Highly reliable components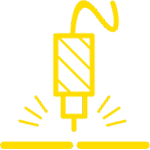 Robot Welded
Maximum strength
Highest quality
Uniform welds
Better use of space with our bridge cranes.
The optimized combination of structures and mechanisms (lifting, cross travel and long travel) on these cranes reduce hook approaches and that maximize the useful areas.
Construction of structural welded elements, done with automated and robotic systems, which guarantee the repeatability of welding processes and high product quality.
Single girder bridge crane
The standardization of single girder cranes makes this configuration optimizes the use of space, together with a minimum weight.

Double girder bridge crane
The double girder configuration, thanks to the calculations system used, has an optimized weight, reducing loads on the structure, together with a greater stability when handling large loads.

Undeslung bridge crane
GH underslung cranes are the choice when very big spans are required, or no traditional crane runways are available.
They can be manufactured with cantilevers to access difficult points, and even can be designed to transfer materials between halls.

Cantilever crane
Cantilever cranes are a good solution when you need to serve multiple workstations without covering the entire width of the workshop and / or there are mobility limitations on the ground.

LOOKING FOR A COMPANY AND SOLUTION THAT EXCEEDS YOUR EXPECTATIONS? Request a quote