Hoist / New Hoist Generation
The new hoist´s modular design enables much of the structure to be used for assembling the dif ferent hoist configurations, different rope arrangements (4/1, 2/1, 4/2, etc.), drum lengths or installing a second motor.
This design makes GH´s new hoist competitive and quick to manufacture.
GHA12 Hoist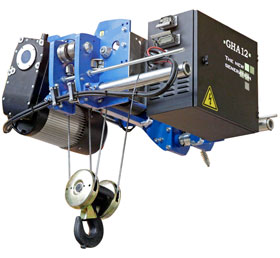 GHB11 Hoist
GHD13 Hoist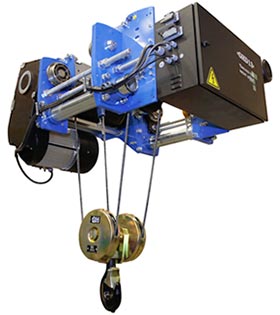 CHARACTERISTICS OF THE STATE-OF-THE-ART HOIST
1
Design: robust, compact and clean with a modern and technological profile.
No counterweights: lighter and with the most economic structure.
Modular design: changing just a few of the parts allows the hoist configuration to be transformed.
Bolted structure: The maintenance is simpler and avoids the deformation of the welded frame, achieving greater versatility.
Exterior fairing GHA12, GHB11 and GHD13, with a common plate for the entire range of each generation.
Compact tubular double girder concept: More competitive solution than the typical trolley with end carriage on the market. Exclusive to GH.
2
Gears made of rectified cemented material. This lengthens the life of the gearbox, manufactured according to ISO 6336. Reduces vibrations and noise of the gearbox.
Protection of travel gear in suspended AR: avoids handling and possible entrapment. Prevents the dripping of grease.
Four-gauge pin type load cell: for load limiter, which makes it possible to know the load spectrum and determine the SWP.
Steel cable, with plastic injection and safety factor greater than 5 in all configurations.
Quick connectors, which facilitate maintenance and save assembly time.
Cabinets with COREBOX, datalogger and connectivity.
Top of the range commercial electrical components: Schneider, Weidmüller, etc.
3
Standardisation of variable speed drive for all movements.
Increased safety: by placing the encoder in an elevated position that favours the return of the command information from the drive to the motor. Robust and high-resolution design encoder.
High-capacity braking resistance, overload capacity, oversized. High dielectric strength.
Overspeed for small loads: Allows the hoist to go faster if the load is below 25%. With the maximum load it can go at nominal speed. From 25% to 60% maximum overspeed.
Possibility of fitting regenerative drive and the elimination of braking resistors. Energy savings.
LOOKING FOR A COMPANY AND SOLUTION THAT EXCEEDS YOUR EXPECTATIONS?
Request a quote